This is a saddle made by an American of Indian descent-which features a Native American motif. Everything on it symbolizes something in their culture.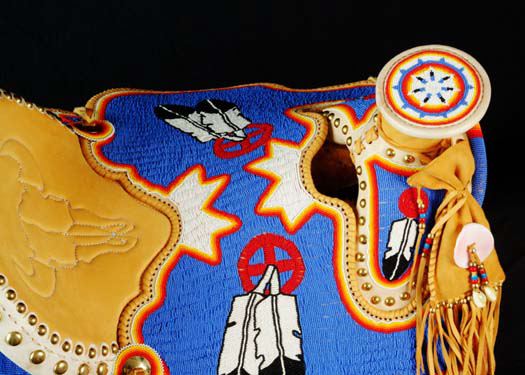 The Meaning and Symbolism. White-Country, Seaboy, and Belgarde have named this saddle Chhon' Ah Kin' Tog Zhee, which literally translated means "The Blue Yellow Saddle." However, as in much else in the Dakotah Way, this apparently simple name masks much deeper, and multiple, levels of meaning, and thus, as is explained below, a more appropriate translation of the name of this saddle from Dakotah into English would be "The Spirit Lessons Saddle."
The Unity of All Things is represented by the two red Medicine Wheel designs incorporated into the beadwork on the seat. On the back of the cantle is a red cross-like symbol that also represents the Four Directions, the Four Powers of the Universe. Above this symbol is a yellow and black design, anchored at each end by a red circle from which hangs a single feather from the Spotted Eagle. For Seaboy, this element of the design—which was the first created by White-Country in her execution of this work—represents the earthly and spiritual lives of the human soul, and the yellow line connecting them, the Path of Life. For his part, Belgarde sees in this symbol reference to the lessons learned from the material world by our spiritual selves. The buffalo skull design, which has been stitched into the seat, represents the Source of Life of the Red People, since traditionally the buffalo provided food, clothing, shelter, tools, and fuel. The Medicine Bag hanging from the right side of the saddle horn represents the medicines indigenous to Turtle Island, the Western Hemisphere. And, the circular piece of pink conch shell that adorns the Medicine Bag symbolizes Mni Wichoni—the Water of Life.
The likes of Roy Rogers and Gene Autry would love to have had a saddle such as this great piece of art.